Welcome to the Rocky Mountain University of Health Professions Learning Resource Center!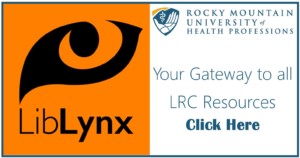 To Access any of the LRC Databases and Resources, You Must Use the Link to the Left.
Login through Okta using your RMU email and password. Let us know of any problems or concerns you encounter!
Preceptors and Clinicians
Please be aware that to continue to have access to the LRC resources, contact Karen or Ashley to get an individual account set up.
View the video below for more information on LibLynx